Want to Purchase greatdane Puppies?
Great Dane Puppies In Mumbai
If you are looking for a pet that is strong, loyal, and playful, Great Dane is an ideal choice for you. Premium Pet House helps you find the most adorable Great Dane puppy to add to your family. We provide you with a plethora of options regarding cute and healthy Great Dane puppies for sale.
Moreover, Premium Pet House ensures that you get the puppies at the best Great Dane puppy price in Mumbai. You can rest assured that we will help you make the right choice in bringing a new furry friend home!
If you are looking for any more information about the Great Dane Dog breed that would help you make a solid decision, you can reach out to us and we would be more than happy to assist you in the best way possible. Our Contact Number is 9823704651
Brief Introduction About Great Dane
Great Dane is a dog breed that hails from Germany. Also known as Deutsche Dogge and German Mastiff, the breed is a descendant of the hunting dogs from the Middle Ages. A Great Dane puppy can grow up to be as tall as 32 inches at the shoulder, making it one of the tallest dog breeds.
The coat of a Great Dane comes in multiple colors and patterns. The breed is best known for its black-and-white patchwork pattern, commonly known as "harlequin." Great Dane is an elegant breed that is extremely powerful and alert.
| Breed Name | GREAT DANE |
| --- | --- |
| Origin | Germany |
| Breed Group | Sporting Group |
| Height | Male: 76–86 cm, Female: 71–81 cm, |
| Weight | Male: 54–90 kg,45–59 kg |
| Lifespan | 8 - 10 years |
| Temperament | Devoted, Friendly, Reserved, Confident, Loving, Gentle |
| Apartment Friendly | |
| Price | 40,000 - 1,50,000 |
Now that you are thorough with both sides of the coin when it comes to getting a Great Dane puppy, you can reach out to us if you are willing to be proud Great Dane puppy parents today! just Connect at - 9823704651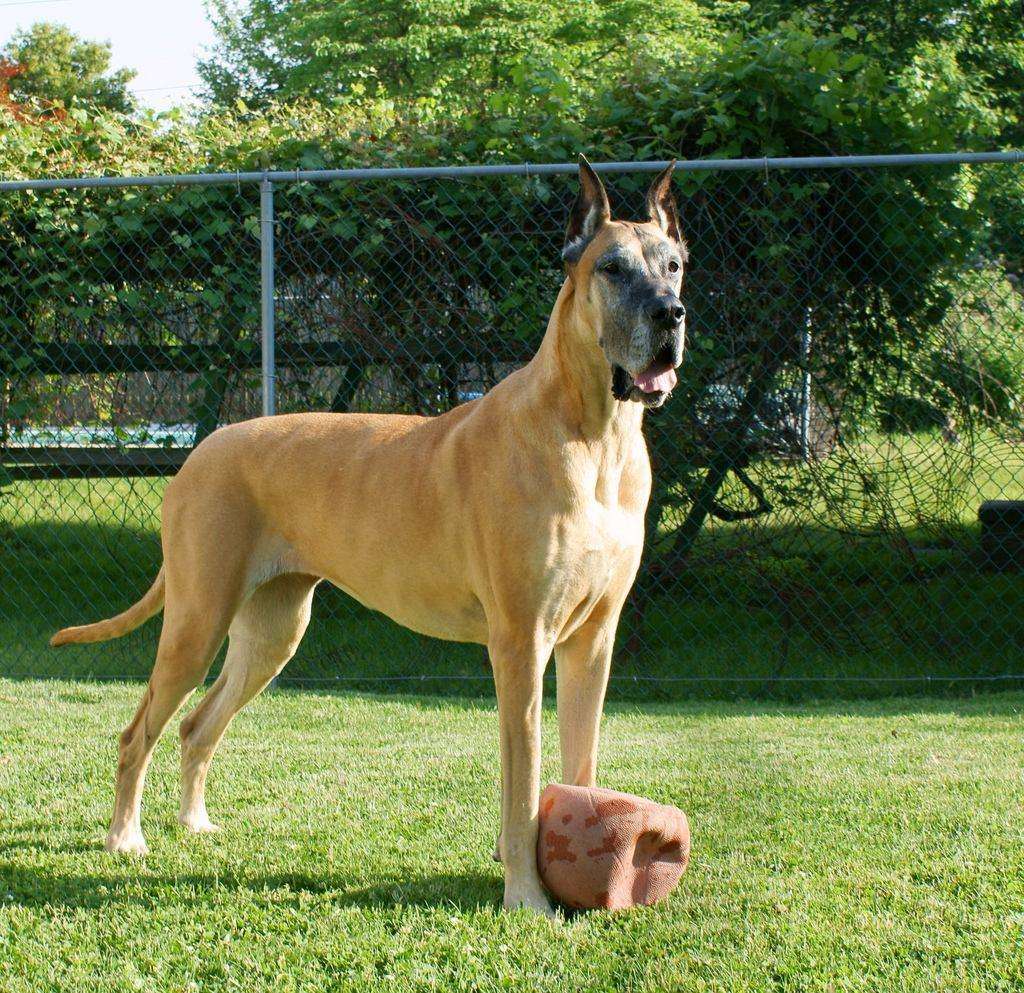 Benefits Of Having A Great Dane Puppy
An Ideal Mix Of Strength And Tenderness
Looking at the sheer size of a Great Dane puppy as it grows, it is easy to assume the amount of strength it possesses. While the breed is very strong, it is equally gentle and elegant when the puppy is with its owner. Once a Great Dane is comfortable with you, you will forget about its size and play with it as if it were any other goofy and playful puppy.
Perfect Guard Dogs
Great Danes make perfect guard dogs. With a Great Dane at your house, you can rest assured that they would always be alert and keep a watch for your house in your presence and absence. With its stature and fairly intimidating bark, a Great Dane can easily prevent potential trespassers from coming near your house.
Fuss-free Grooming
With a Great Dane, you need not worry about taking extra efforts for grooming them. Unlike most breeds, the grooming needs of Great Danes are limited due to their short and thick coat. Also, you don't need to bathe them often.
However, it is always advisable to brush your Great Dane puppy on a weekly basis with a soft bristle brush for keeping their coat healthy.
Friendly With Other Pets
Along with kids, Great Danes are friendly with other pets as well. If you already have one or more pets at home, bringing in a Great Dane puppy will never disrupt the cordial environment at home. Owing to their friendly nature, Great Danes are quick in making friends with other pets make sure that everyone has a good time!
Kid-friendly Dogs
If you have kids at home, having a Great Dane puppy would provide them with a new playful friend. The breed is very friendly with children and doesn't take time to bond with them. With them being strong guard dogs as well, you can leave your kids with Great Danes without worrying about their safety.
Easy To Train
Another major advantage of bringing home a Great Dane puppy is that the breed is easy to train. Great Danes are intelligent dogs with a natural curiosity to learn. Especially if you start training them when they are young, they turn out to be highly obedient students! However, always make sure that you use calm and positive training methods instead of giving them harsh punishments.
Now that you are well-versed with some of the major benefits of bringing a Great Dane puppy home, you can reach out to us for scheduling a visit.
We will also provide you following breeds.