Boxer Dogs For Sale In Bangalore
If you are looking for a pet who is tough, loyal, and playful, you are looking for a Boxer. Staying true to its name, Boxer is a really strong breed of dogs with unmatched loyalty for their owners. At Premium Pet House, we provide you with some of the healthiest Boxer puppies for sale in Bangalore. We help you bring home the adorable pets at the best Boxer puppy price in Bangalore. Based on your needs and preferences, we will guide you every step of the way in welcoming a new member to your family.
All you need to do is reach out to us and we will shoulder the responsibility of finding you exactly the Boxer puppy that you are looking for, Give us a call on 9168794651 / 9850844651
A Brief Introduction To Boxers
A Boxer is commonly referred to as the "George Clooney" of dogs due to its muscular build and square jaws. Originally bred to be working dogs, Boxers have become some of the highly preferred domestic pets over time. They are always high on energy and love spending time with their owners. Although they look imposing, a brief look into their playful eyes would show you their innocence. Thanks to their energy, Boxers are also known as the Peter Pan of dogs.
The breed originated in Germany, with Boxers being brought to the US after the first world war. They are easily distinguishable due to their short and shiny coats with white flashy markings.
| Breed Name | Boxer |
| --- | --- |
| Origin | United Kingdom, England and Great Britain |
| Breed Group | Sporting Group |
| Height | Male: 10–11 kg Female: 9–10 kg |
| Weight | 10 – 15 Years |
| Lifespan | 10 – 15 Years |
| Temperament | Intelligent, Amiable, Even Tempered, Determined, Excitable, Gentle |
| Apartment Friendly | |
| Price | 20, 000 – 80, 000 |
Benefits Of Having Boxer Puppies
Ideal Family Dogs
Despite having a history of dogfighting, Boxers have evolved into great family dogs. If they are provided with the right social training while they are young, Boxers form a great bond with the families of their owners. Right from kids to the elderly members of the family, everyone loves being around a Boxer. Moreover, as they get easily attached to people, it doesn't take time for the pet to get friendly with every member of your family.
Low On Maintenance
With a Boxer puppy at home, you would not need to spend a lot of time and money on maintenance. As their coats are fairly short, their grooming requirements are limited. You can keep their coats healthy and aesthetic by having one quick brushing session every week. Also, they need not be bathed frequently. If you usually work on a busy schedule, you should not find it difficult to cater to the grooming needs of a Boxer puppy.
Great Exercising Companions
Boxers are always high on energy. As they were originally bred as working dogs, Boxers rarely get tired. This makes them ideal exercising buddies. If you are looking for some motivation to wake up early in the morning and go for a jog, you can rest assured that your Boxer puppy would help you set a great routine! Boxers also make for great hiking companions as they love indulging in physical activities that push them to their thresholds.
Easy To Train
Owing to their high intelligence, Boxers are fairly easy to train. They have a natural knack for learning new tricks and are very curious about everything. Irrespective of the complexity of the trick or command to be taught, it doesn't take many attempts to get a Boxer trained well. However, it is always important to use positive and reward-based methods to train a Boxer.
Great Guard Dogs
Thanks to their high energy and muscular build, Boxers make excellent guard dogs. They can get really intimating to scare away unwanted trespassers and burglars. Boxers are also highly alert dogs, a trait that helps them keep an eye on any unusual activity that may pose danger to you and your loved ones.
High On Loyalty
If you are looking for a furry friend with undying and unconditional loyalty for you, you should definitely get yourself a Boxer puppy. Boxers are extremely loyal to their owners once they establish a bond of comfort with them. In the case of crises, Boxers wouldn't think twice before leaping into danger to ensure the safety of their owners.
Never-ending Entertainment
Once you have a Boxer puppy home, you can rest assured that there would never be a dull moment around them. Their playful nature and high energy make them natural entertainers. Whether you are having a gathering at your home or want to cheer yourself up after a dull day, a Boxer would readily brighten up your day with never-ending entertainment.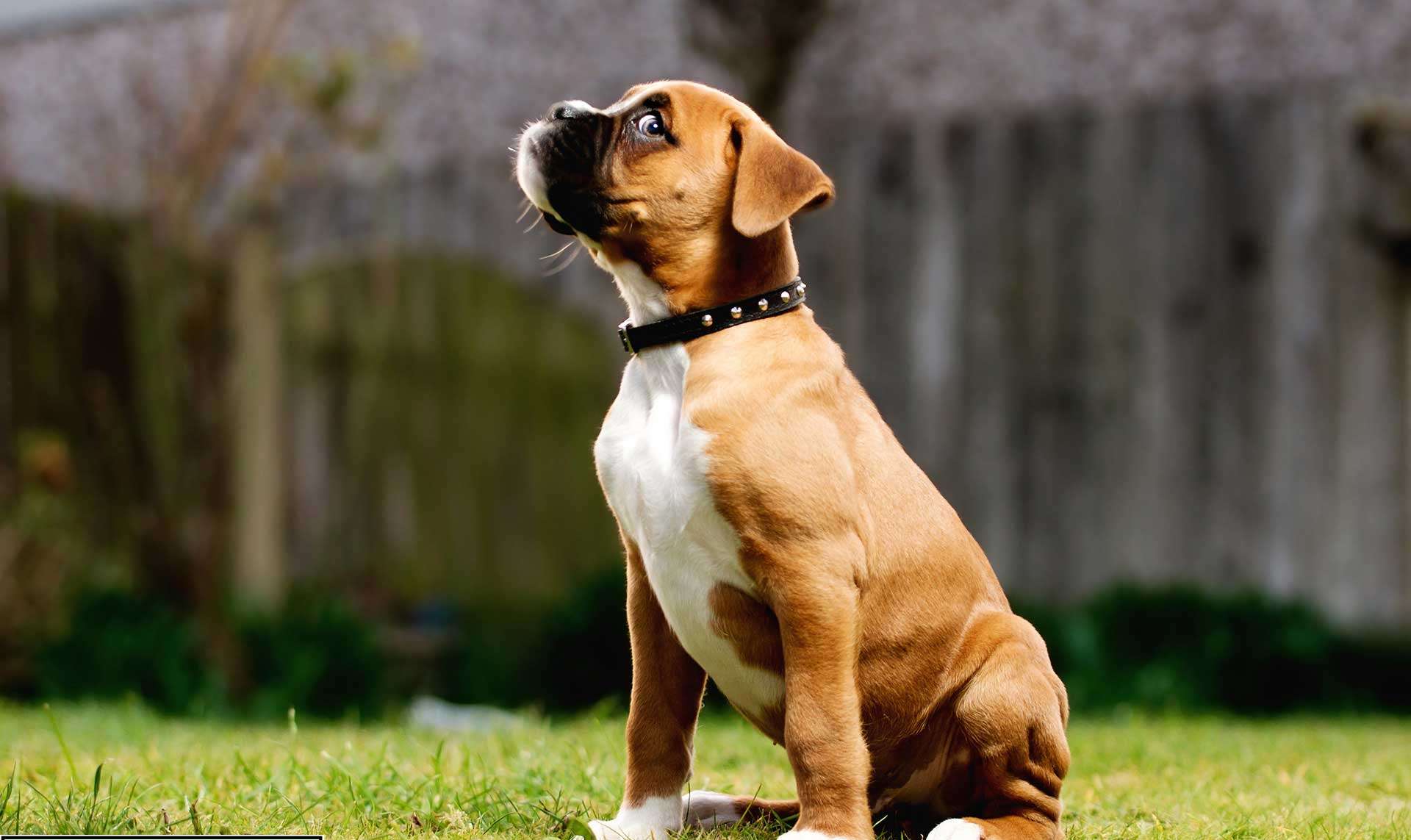 We will also provide you following breeds.
Important Considerations Before Getting A Boxer Puppy
The Need For Social Training
While Boxers make great family pets, it is important to provide them with the right social training while they are young. If they are not trained well, Boxers can get fairly unruly, erratic, and borderline dangerous. It is, therefore, important to get your Boxer puppy trained thoroughly once you bring it home.
Poor Insulation Against Cold
Although this would not be an issue in a city like Bangalore, it is important to note that the short coats of Boxers make them sensitive to cold. Think twice before taking them to a colder environment or exposing them to very low temperatures.
Sensitive Stomachs
Before bringing a Boxer puppy home, it is important to know that the breed has sensitive stomachs. Boxers are prone to a range of different gastrointestinal issues if they end up eating anything that doesn't suit them. As lovers of food, they would eat anything and everything that is offered to them. However, as a responsible pet owner, it is always important to monitor their diet and give them the right quantity and quality of food.
Prone To Separation Anxiety
Boxers need love and attention from their owners. If they are not provided with the same, they start feeling neglected and develop separation anxiety. Never make the mistake of leaving your Boxer puppy alone for a long time and give them as much attention as you can.
Now that you are thorough with the benefits of bringing a Boxer puppy home and important considerations to keep in mind before getting them, you can check out our Boxer puppies for sale in Bangalore. Right from choosing the puppies to providing you with all relevant information, we would do our best to assist you in bringing the adorable pets home.